International conference
"Emerging Importance of Wider Black Sea Area Security"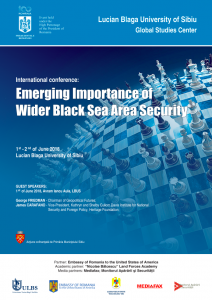 Under the High Patronage of the Romanian President, with the support of the Embassy of Romania to the United States of America, and co-financed by the Sibiu City Hall, the Global Studies Center (Lucian Blaga University of Sibiu) involves experts and institutional representatives from Romania, Europe, US and from the eastern neighbourhood of the Alliance (e.g. Ukraine, Georgia and the Republic of Moldova) to discuss and deliver analyses, with the aim of identifying sustainable solutions for the Wider Black Sea Region. Based on the academic partnership with "Nicolae Bălcescu" Land Forces Academy in Sibiu, the approach targets at designing a common vision for Wider Black Sea Area Security (WBSAS) and developing policy recommendations, within a synthesis document (Policy Paper) and a Proceedings Volume, favourable to the strategic engagement at the allies' leadership level. The project represents an excellent prerequisite to promote the construction of a Security Trust network in the Eastern Flank of NATO and to deliver valuable contributions for the upcoming NATO Summit Agenda.
***PARTICIPANTS*** Institutional representatives, think-tank experts and academics invited from: Romanian Presidency, Ministry of Foreign Affairs (RO), Ministry of National Defence (RO), NATO HUMINT Center of Excellence (RO), Geopolitical Futures (USA), The Heritage Foundation (USA), Kathryn and Shelby Cullom Davis Institute for National Security and Foreign Policy (USA), Research Center for Regional Security (UKR), Journal of Strategic and Social Research (TR), New Strategy Center (RO), The Romanian Euro-Atlantic Council (RO), EURISC Foundation (RO), Center for Conflict Prevention and Early Warning (RO), The Middle East Political and Economic Institute (RO), GeoPolitica Magazine (RO), Taras Shevchenko National University of Kyiv (UKR), Sakarya University (TR), Mehmet Akif Ersoy University (TR), National University of Political and Administrative Studies/SNSPA (RO), Babeş Bolyai University of Cluj-Napoca (RO), The Academy of Economic Studies (RO), The University of Bucharest (RO), Land Forces Academy "Nicolae Bălcescu" (RO).
The international conference will take place on the 1st-2ndof June 2018, at Lucian Blaga University of Sibiu, Romania.
Project Manager
Assoc. Prof. Silviu NATE, Ph.D.
Director of Global Studies Center
(silviu.nate@ulbsibiu.ro)