Sub egida International Economic Conference of Sibiu – IECS, Facultatea de Științe Economice și Centrul de Studii Globale, Universitatea "Lucian Blaga" din Sibiu împreună cu Universitatea "Taras Șevcenco" din Kiev organizează în 24 mai, începând cu ora 09:00, masa rotundă intitulată: ADDRESSING THE NEEDS OF UKRAINE – RECONSTRUCTION AND RECOVERY IN POST-WAR UKRAINE.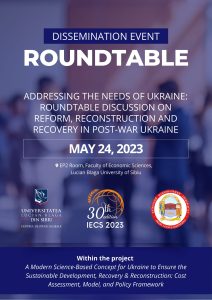 Evenimentul se va desfășura în sala EP2 în incinta Facultății de Științe Economice.
Pentru participare online vă invităm să vă înregistrați prin accesarea următorului link: https://us02web.zoom.us/meeting/register/tZctd-ugqTgjG9N7HPj_Ju6em_1rX1-1dsIg
Evenimentul va cuprinde două secțiuni:
Economy: Priorities of Socio-Economic Development Under War and Post-war Reconstruction of Ukraine
Advancing Justice: Legal Reforms for Post-War Ukraine
Manifestarea va reuni reprezentanți oficiali și experți din Ucraina, Republica Moldova și România.
Pentru mai multe detalii, vă rugăm să consultați Agenda evenimentului.
Echipa de organizare:
Conf. univ. dr. habil. Ganna KHARLAMOVA
Prof. univ. dr. habil. Iryna IZAROVA
Prof. univ. dr. habil. Andriy STAVYTSKYY
Conf. univ. dr. Eduard STOICA
Prof. univ. dr. habil. Răzvan ȘERBU
Conf. univ. dr. Silviu NATE
Evenimentul este susținut de Fundația Hasso Plattner prin grantul bilateral LBUS-UA-RO-2023, finanțat de Institutul de transfer de cunoaștere al Universității "Lucian Blaga" din Sibiu.
Raportul evenimentului constând în policy paper poate fi consultat aici.